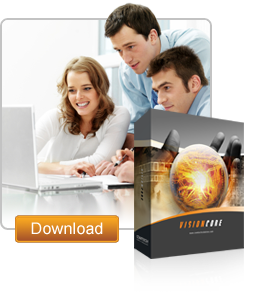 All-in-One Business Solution

VisionCore tightly integrates all its modules eliminating the need for your business to purchase multiple applications. This integration gives you a very consistent look and feel and cuts the learning time down considerably.
Not only does VisionCore include all the major modules you would need to run your business, it can also be integrated with most external applications and be customized any way you want.
User Interface

One of the major advantages of using VisionCore is the incredible user interface designed around our powerful ERP application. Tens of thousands of hours have gone into creating the best user interface on the market. This is a great benefit to our customers as they have a much easier time learning VisionCore and it reduces implementation and training.
With our users in mind, Comtech has implemented the ability to change and save the layout of grids, columns of information and filtering and searching options. This will allow users to optimize their time which will increase productivity.
Another user specific feature is the ability to change desktop graphics and themes. Graphics and the visual display of information can make a user feel comfortable and content as they work.
Greatly reduce implementation times

VisionCore is so easy to install, update and learn that it will save you time, money, training and setup. Many of our customers said it took them half the amount of time to implement than their previous solution.
Customizable to fit any Business

VisionCore can be customized to fit any of your business needs. Whether you have a team on staff to handle making custom changes, or hiring our development team, we provide the tools and knowledge you need to make VisionCore work for your business.
The VisionCore SDK contains details of forms, controls, tables, fields, functions, stored procedures, namespaces and class modules with descriptions and examples. It will allow you to integrate any other Visual Studio application with VisionCore. You will be able to customize VisionCore and even add new functionality using the SDK. The advantage of doing customization work with the SDK is that the changes made will be separate from the core application which makes debugging the code much easier. With this approach you will be able to take advantage of all future updates to VisionCore and it will not affect your customization work.
Latest Technology

The .NET framework allows us to customize and add features faster than most other solutions. It also guarantees that you will be in the most up to date technology.
Innovation

We are constantly innovating and enhancing VisionCore based on customer feedback. If our customer has a suggestion, we listen and often implement that suggestion in months rather than years like our competitors.
Works for many types of Industries

VisionCore works for many industries right out of the box. Several of the industries VisionCore works best for, include the following:
▪ Wholesale
▪ Manufacturing
▪ Distribution
▪ Automotive
▪ Medical
▪ Nonprofit
▪ Contractors
▪ Professional Services
▪ Retailers
▪ Hospitality


Prompt round the clock Support

We pride ourselves on customer satisfaction and support is a big part of that. We provide prompt and friendly support 24 hours a day, 5 days a week. Our dedicated and hardworking product experts work around the clock to deliver the best solutions on the market.
Comtech's support turnaround times are some of the best in the industry, so you get the answers to your questions when you need them. This is our way of saying you deserve nothing less than proactive strategic assistance, mission-critical services and collaborative support solutions when you need it.