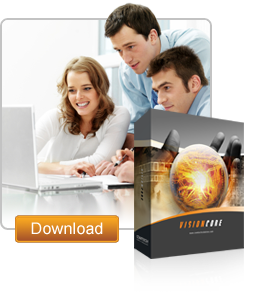 All-in-One Business Accounting Software

VisionCore is the first .NET Accounting and ERP software that is Connected, Customizable and Scalable. This software is a powerful, yet simple to use accounting and ERP solution. You will find much time has been spent in making the interface appealing and easy to understand yet still provides all the power your organization needs to run your business. This will save you a lot of time and money when implementing the software. View the screen shots or videos to learn more about VisionCore.
VisionCore software has all of the functions you need like order entry, AR, AP, purchasing, general ledger, inventory manager, manufacturing, reporting, payroll, POS, job costing, CRM and banking, but it also has features that will be crucial as you grow. It even allows you to integrate with other programs like your shopping cart, salesforce.com, Payment Processing, ShipRush, AbleCommerce and almost any other application locally or over the web.
Customizable Software without Limitations
One of the most daunting prospects for most businesses is the idea of customizing their accounting and ERP application. Everyone has heard horror stories of the astronomical amount of effort required to maintain a custom system and the panic that ensues when a vendor ceases supporting a custom application. VisionCore accounting software solutions allows you to easily create a customized version for your business.
VisionCore is architected to allow you to create customized forms based on the standard forms that can "inherit" the qualities of the standard forms rather than overwriting them. This means that when a new update of VisionCore accounting software is released, you can simply install it on your system normally and your custom form will be unaltered.
This breakthrough means that you won't have to do a major implementation every time you receive an update or bug fix for your software and you can feel free to make VisionCore an application uniquely suited to your business without eliminating your ability to upgrade.
Connect with Coworkers, Clients, Trading Partners and Vendors
One of the biggest trends of the past decade has been globalization. Even small businesses now have employees telecommuting and many businesses have established offices all over the globe. This can be a challenge when trying to share information because of the significant costs associated with creating electronic ties between two or more locations. VisionCore can solve this solution by allowing you to share information in the accounting software through the internet.
The .NET framework handles these challenges easily by allowing you to use the regular internet to connect to your data from any location. The data is protected by the security of SQL Server as well as the built-in security of VisionCore, but it is accessible to your users by simply typing in the server location (IP address) and name. You can then login normally. There is no new software to install and you have full access to all the functions of the software without the limitations of a browser-based application that is completely Web-based.
Simple Licensing Options
It can be extremely frustrating to evaluate software that is priced by the "module" or even "granule" and try to understand what you are actually getting. It's similar to walking into a model home that is in your price range and falling in love with it, only to find out later that most of what you've seen in the model isn't included.
When you view the demo of VisionCore's accounting software, you will be seeing exactly what you will receive. We don't create confusing pricing structures because we know that it can be overwhelming and difficult to comparison shop. Also, we know that your business can change and we want you to have all of the available functionality at your fingertips so that if your needs grow, your accounting software will be prepared to accommodate them.